Unleash Your Potential: Become a Certified Lash Tech and Build Your Dream Business from Home!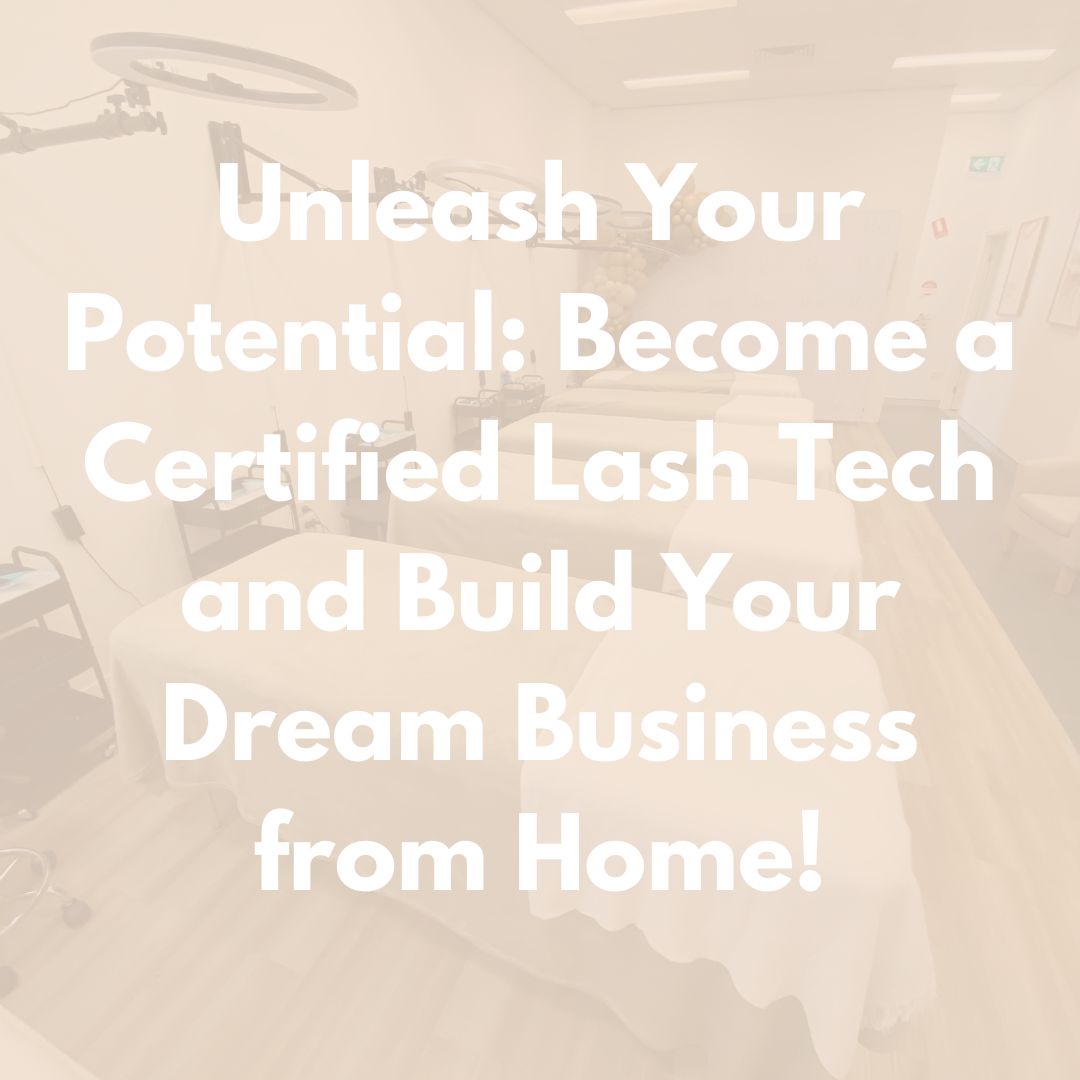 Attention, ambitious women!
Are you ready to transform your passion for beauty into a thriving business that offers you the freedom and flexibility you've always craved?
It's time to take control of your career, become a certified lash tech, and open the doors to endless opportunities. Don't just dream of being your own boss from the comfort of your home—make it a reality. Join me as we delve into the inspiring goals shared by our fellow lash enthusiasts, and discover how you can achieve them through our comprehensive eyelash extension course.
Turn Your Passion into Profit: Start Your Own Lash Studio from Home!
Imagine the satisfaction of owning your very own lash studio, where you can create stunning lash transformations and build a loyal client base. Our course will equip you with the knowledge and skills you need to confidently launch your business right from the comfort of your own home. You'll learn the art of lash extensions, gaining the expertise to create beautiful, eye-catching looks that leave your clients feeling glamorous and confident.
Achieve Work-Life Balance: Be an Involved Mum and Thrive in the Beauty Industry!
Are you a dedicated mum who yearns for a fulfilling career while still being present for your loved ones? Our course provides the perfect opportunity to embrace both worlds. With flexible work hours and the ability to work from home, you can build a successful lash business while nurturing your family. Join the community of like-minded women who have discovered the balance between work and family, and create a lifestyle that allows you to thrive as a passionate lash entrepreneur and a loving mum.
Embrace Financial Independence: Build Your Own Lash Bar and Increase Your Income!
Escape the limitations of a stagnant income and step into the realm of financial independence. By becoming a certified lash tech, you'll unlock the potential to increase your earnings significantly. Our course empowers you to set your own prices and establish your lash bar, providing a space where women can indulge in the art of beauty and feel truly beautiful. Say goodbye to relying on others for your financial well-being and hello to a world where your skills and passion are rewarded.
Embark on a New Career Path: Learn Lashes, Master Skills, and Become Your Own Boss!
If you're seeking a career change that allows you to unleash your creativity and thrive in the beauty industry, look no further. Our comprehensive eyelash extension course will equip you with the skills and knowledge you need to become a sought-after lash technician. Step into a world of endless possibilities as you embark on this exciting journey towards becoming your own boss. Say goodbye to uninspiring jobs and hello to a fulfilling career where your passion shines through.
Join Our Thriving Community: Connect, Learn, and Succeed Together! We understand the importance of support and collaboration on your journey to success.
By joining our lash community, you'll connect with like-minded individuals who share your ambitions and dreams. Gain invaluable insights, exchange tips and tricks, and celebrate your victories together. With our guidance and the support of fellow lash enthusiasts, you'll find the strength and motivation to overcome any challenge and build a thriving lash business.
Your dreams of financial independence, work-life balance, and career fulfilment are within reach. By enrolling in our eyelash extension course, you'll gain the skills, confidence, and support you need to turn your goals into reality. Start your journey today, and join the ranks of empowered women who have found success as certified lash techs and proud business owners. Don't wait for change to happen—take charge of your future and create a life you've always envisioned.
Click Here To Learn More About Becoming A Lash Tech