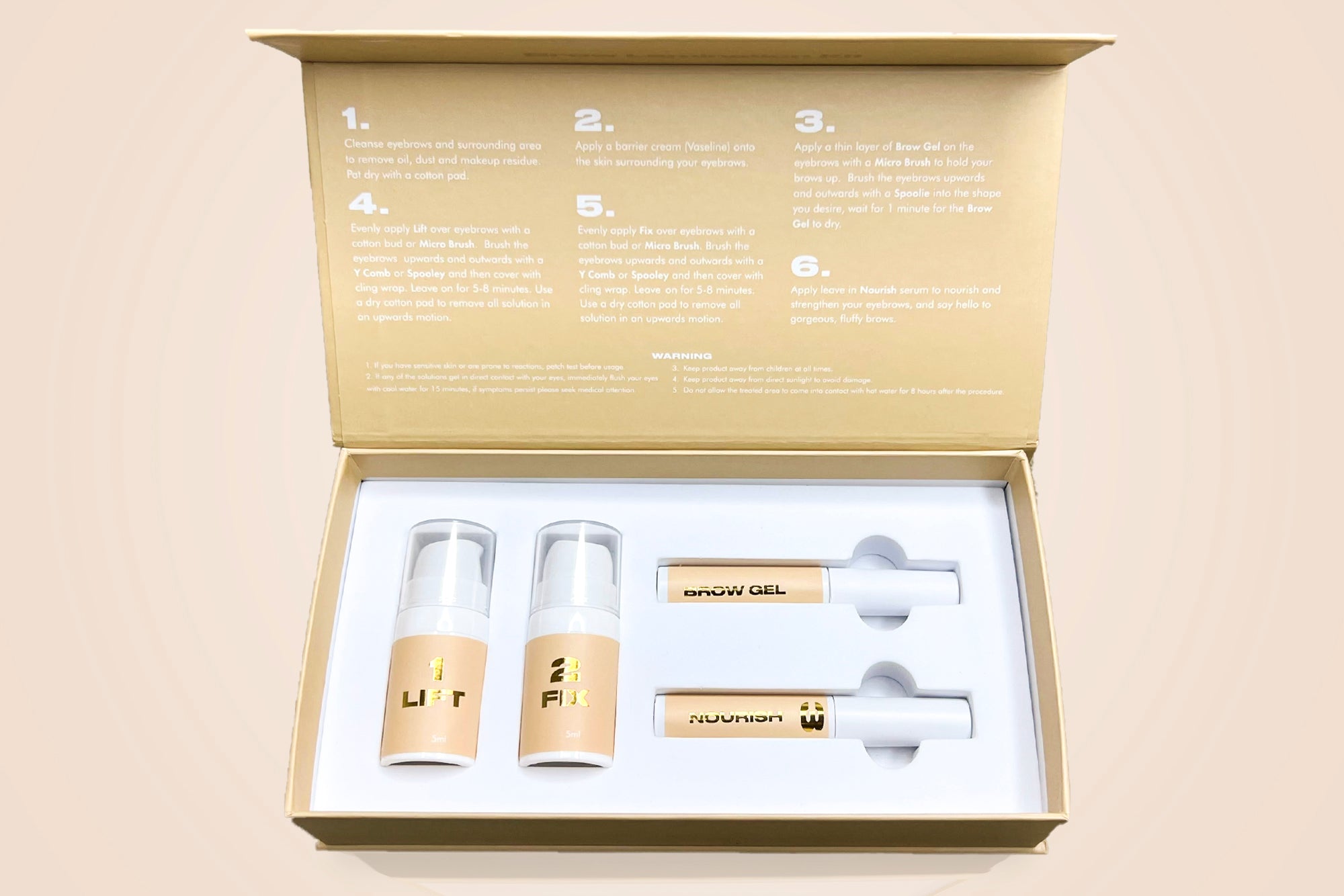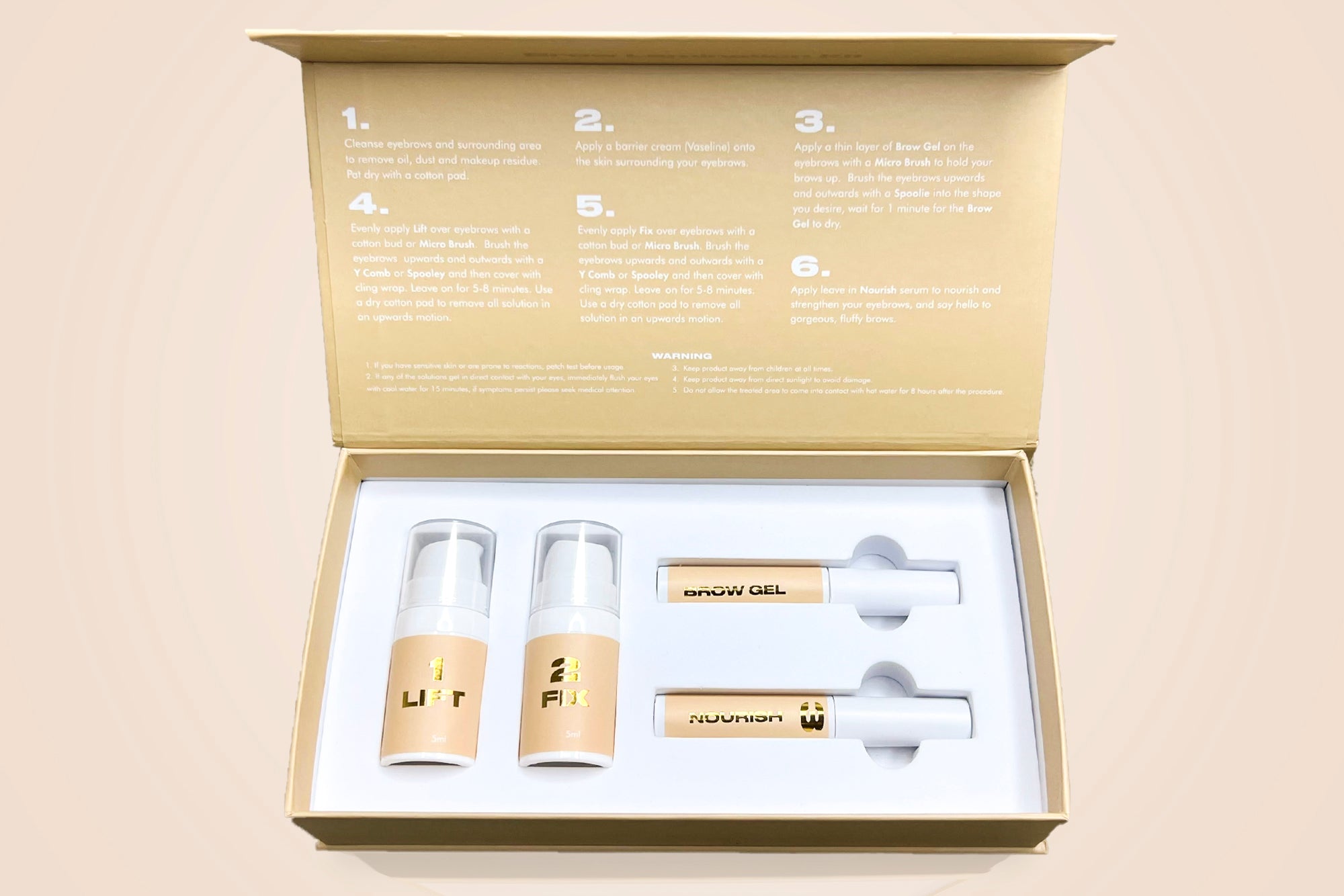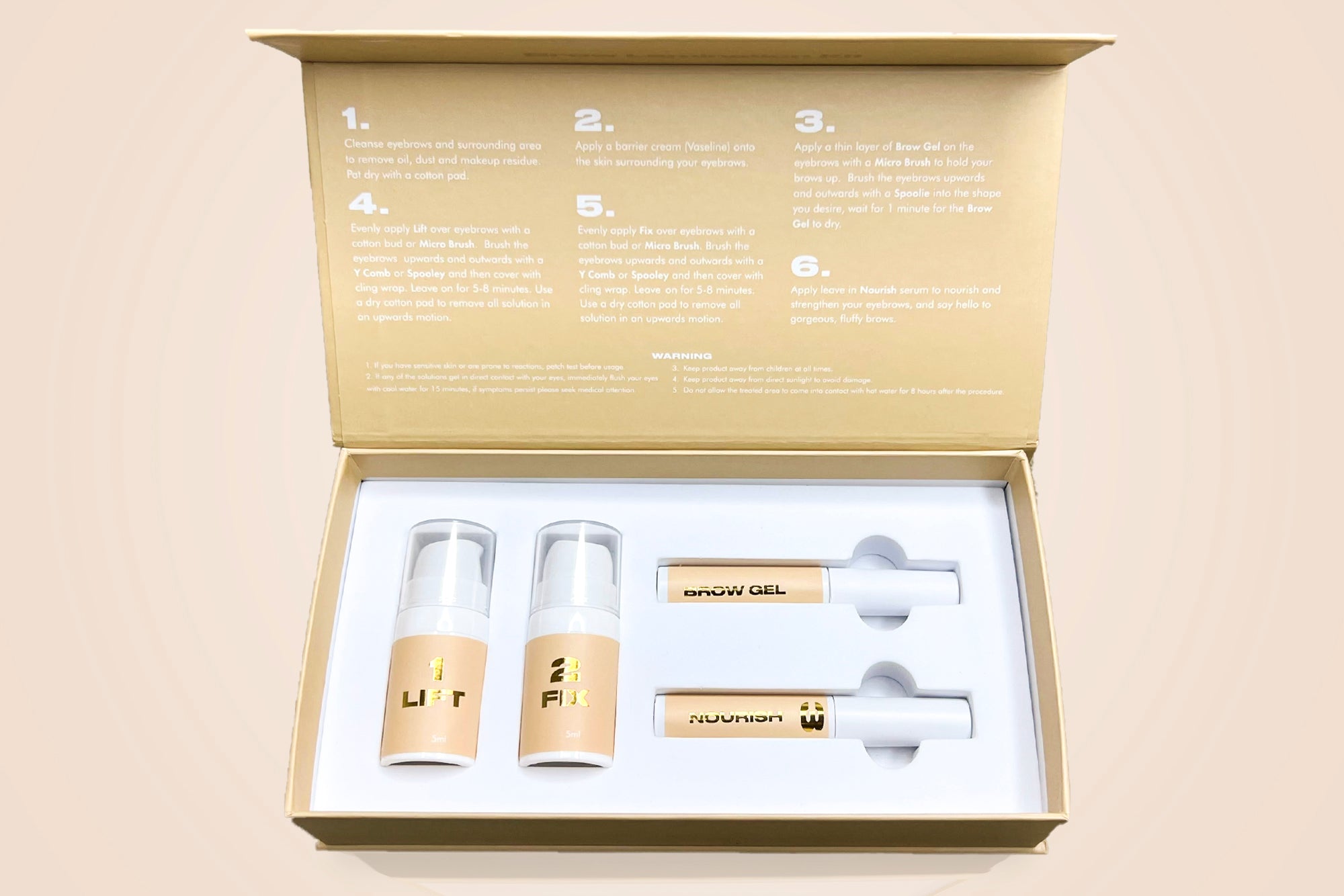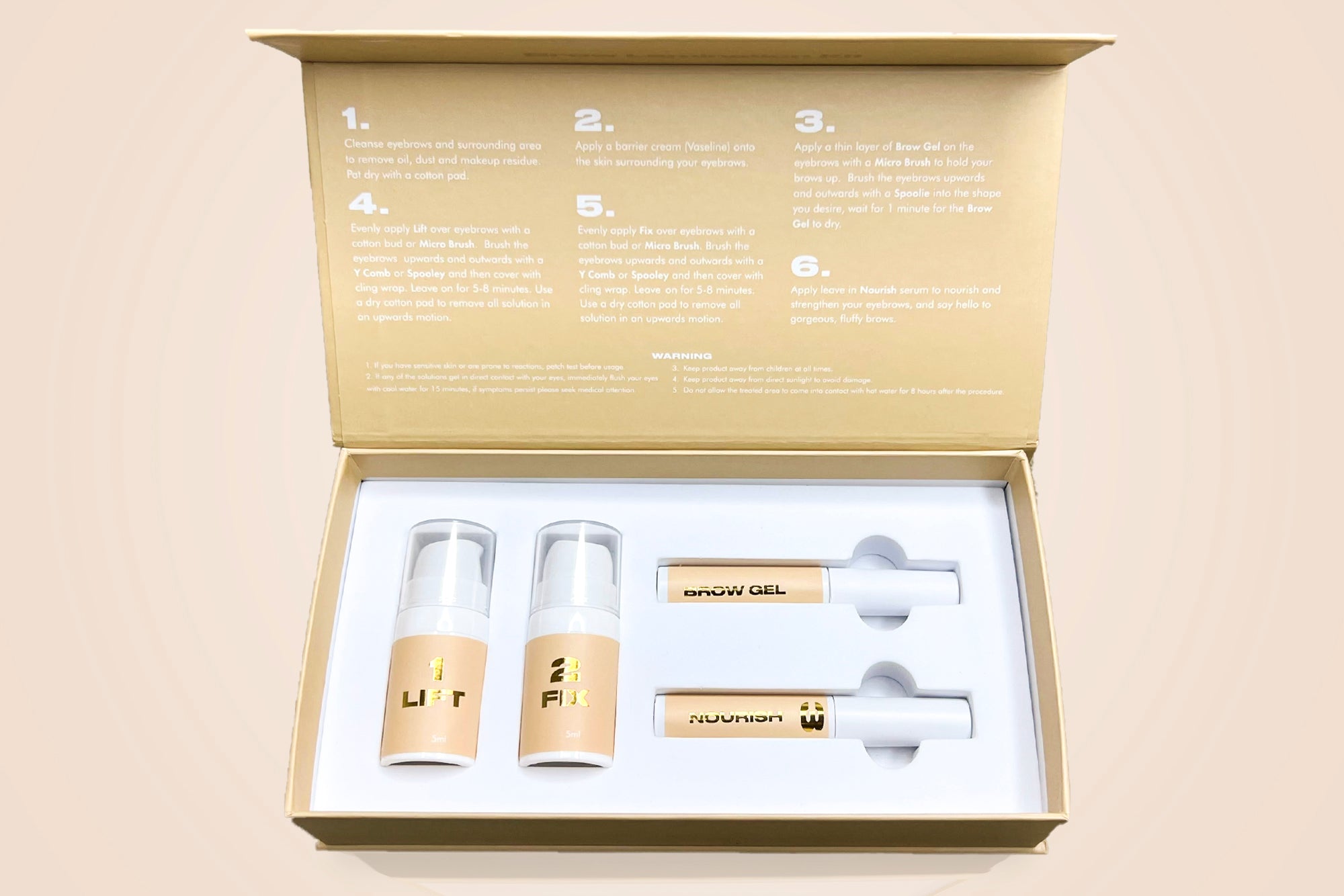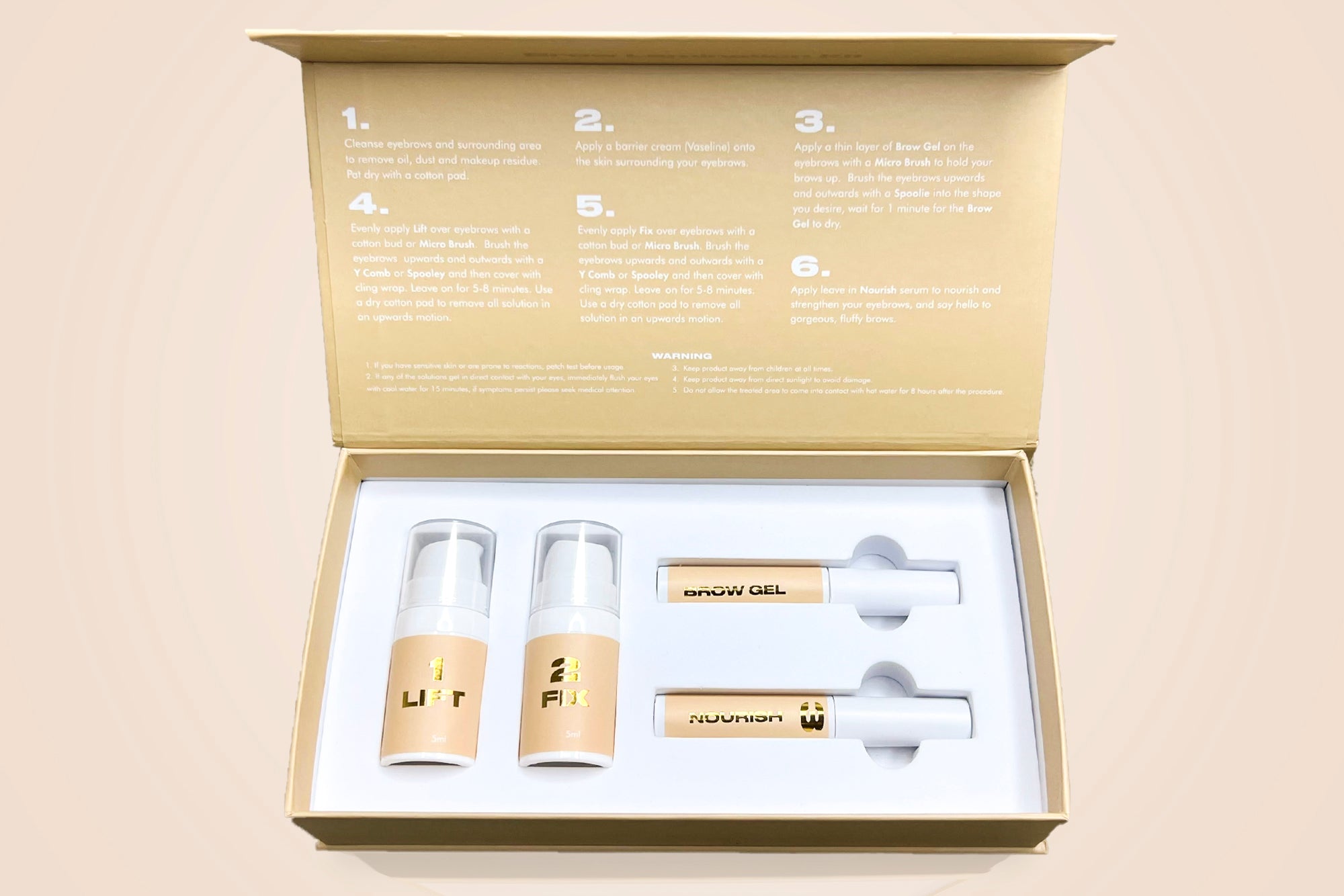 Eyebrow Lamination Kit
This product is designed to achieve a full natural brow by straightening out the brow hairs the create a more defined and thick brow. The Brow Lamination Kit is essentially shaping and setting the brows in the desired position. Read More
Up to 15 applications
Easy for home use
Applicator brush not included
Achieve Salon Quality Results with Our Eyebrow Lamination Kit
Brow lamination is the latest brow trend that is taking the industry by storm. You cannot look on social media, in a magazine or on television without seeing pictures of big, feathery brows. Do you want to achieve these full, thick brows without needing to visit a salon? Then we have you covered. Our home brow lamination kit is comprehensive, easy to use and guaranteed to create great results time and time again.
Lash and brow specialists, we provide a fantastic range of beauty products such as henna eyebrow tint, eyebrow brushes and more that you can use at home to achieve salon quality results. Whether you are purchasing for personal use or use on your clients, Islashboutique is the supplier to choose.
Doing Your Brows at Home has Never Been Easier
Getting your eyebrows pampered at the salon takes time, dedication and of course money, and not everyone can commit to visiting their brow technician every 4 to 6 weeks. But what if we told you that you can achieve the same great results from the comfort of your own home for a fraction of the price? When you choose our at-home brow lamination kit here at Islashboutique, this will be your reality. We provide all of the tools, products and instructions that you need to laminate your brows in one handy kit.
Complete every step of the process seamlessly with Islashboutique. Tidy, volumised and sleek brows that are guaranteed to last for up to 2 months, and you can do it yourself at home. Good for up to 15 applications, your eyebrows will be looking sleek for months with our home kits. Sounds fantastic, doesn't it?
How Does Brow Lamination Work?
Eyebrow lamination is a simple process that involves perming the brow hair so it can be placed in a specific shape or position. Lamination realigns the brows and takes care of unruly or curly hairs, leaving you with a polished result for up to 8 weeks. Whether your eyebrows have sparse patches, don't follow a specific pattern or just generally look untidy, lamination will transform your face by creating a fuller-looking pair of brows.
Do You Want to Brush up on Your Skills?
At Islashboutique, we are much more than your average store. At the forefront of the industry, we deliver a seamless combination of high-quality products and in-depth training. That's right, if you want to learn a new skill or simply brush up on your existing knowledge, join one of our online lash courses & eyebrow courses. Perfect your skills to achieve flawless brows on yourself or catch the bug and start your own small business. Wherever our courses take you, Islash Boutique will be by your side.
Purchase the Best Brow Lamination Kit in Australia
Never again will you suffer from thin, flat, untidy brows. Enjoy thick, full brows all year round with Islashboutique. Get in touch to speak to an expert or purchase our brow lamination kit today!
Read Less
"At Islashboutique, we understand the importance of a reliable and efficient shipping service. That's why we partner with Australia Post to ensure your products are delivered in a timely manner, giving you peace of mind.

Your products will be shipped within 24 business hours of purchase.

We offer various shipping options:

Express - delivered within 1 to 3 business days
Standard - delivered within 2 to 10 business days
 
With these shipping methods, you can trust that your order will arrive promptly, allowing you to please your clients without delay. Please note that delivery times may vary depending on your location and any unforeseen circumstances beyond our control. We strive to provide exceptional customer service, and our commitment to reliable shipping is just one way we prioritize your satisfaction."