FREE Shipping Over $150 | 3041+ Happy Customers ⭐️⭐️⭐️⭐️⭐️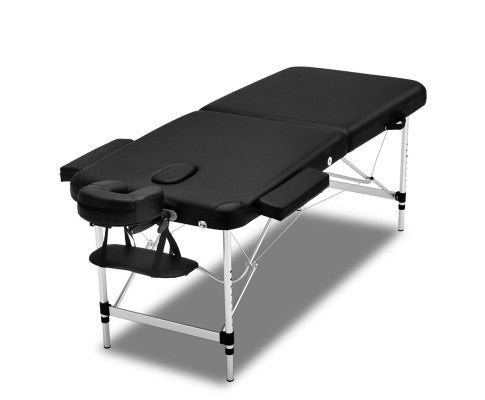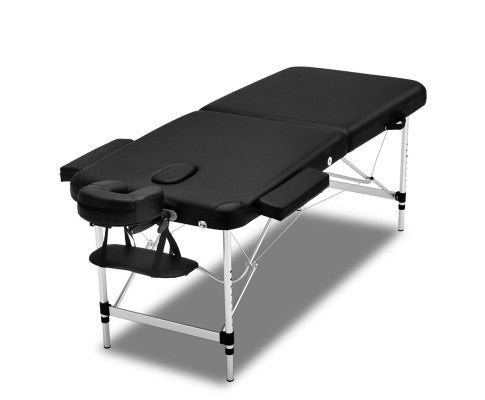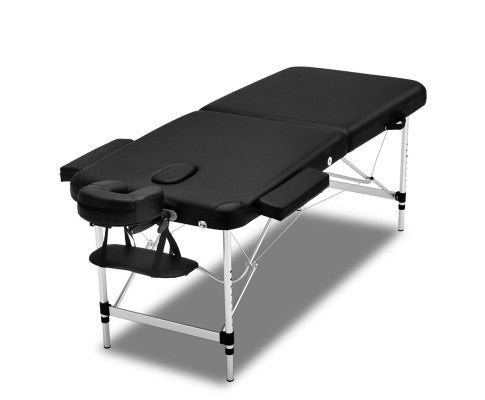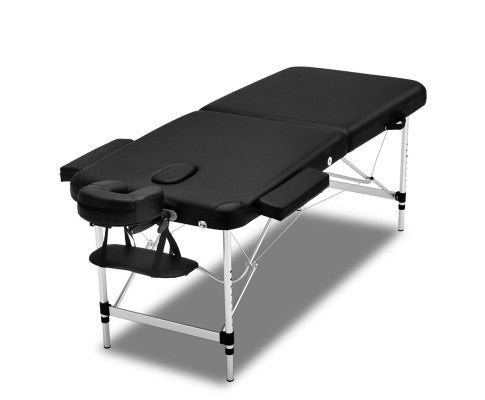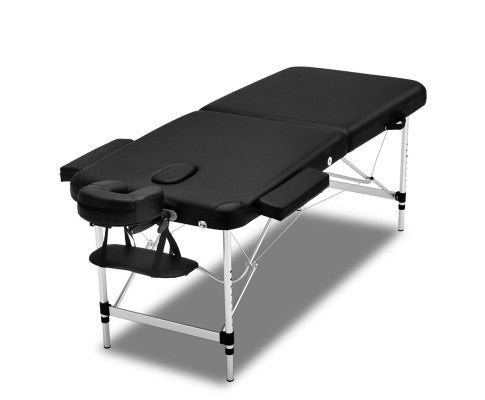 Portable Beauty Bed
Featuring a removable and adjustable face cradle and arm rest and high density foam, these beds are the same as what we supply in our courses and use in salon. This beauty bed features a specially designed reinforced "w" shaped frame structure which greatly enhances sturdiness.
You will be surprised how this 75cm wide massage table can be tucked away and become portable.  The frame is constructed of an aluminium material giving it a robust structure made to last. The  sturdy structure supports up to 250kg whilst only weighing 17kg alone. And with 8 height adjustments, you can choose the height that is most comfortable for your and your client.
Features
* 8 adjustable table heights
* Specially designed reinforced sturdy frame structure
* 75cm extra wide
* 210cm full length for maximum comfort
* Removable and adjustable head rest
* High quality vinyl - oil and waterproof
* Spring pin lock
* Heavy duty aluminium frame
* Supports up to 250kg
Specifications
* Weight capacity: 250kg
* Overall dimensions: 210 (L) x 75 (W) x 59 - 80cm (H)
* Folded Dimensions: 92cm (L) x 17cm (W) x 75cm (H)
* Colour: Black
Package Contents
1 x Aluminium Massage Table
1 x Carry Bag
1 x Disposable Cover Set
SHIPPING: 
Please note the beauty bed will be shipped separately due to size. 
Read More
Delivering Quality Beauty Beds Australia Wide at Islash Boutique!
Are you looking for a portable beauty bed that provides stability alongside comfort? Then you have come to the right place. Here at Islashboutique, we are lash and brow specialists in Australia, and supply everything you need to deliver a great experience to your clients. Whether you are in need of quality beauty beds, personal training or top of the range products, we have you covered.
Complete beauty treatments with ease, safe in the knowledge that your clients are comfortable and supported throughout the entire process, whether it takes 10 minutes or an hour. Provide the best in quality and professionalism and take your business to the next level with our beauty beds.
Enhance the Client Experience with Portable Beauty Beds in Australia
Purchasing a portable beauty bed can really take your business to new levels and for good reason. Imagine the service you can provide to your clients by having the freedom and flexibility to deliver quality beauty treatments at a place that suits them? Whether you work in a salon, at your home or as a mobile technician, you can pack up your station with ease when you are finished. Sounds great, doesn't it?
In such a powerful industry, standing out from the crowd is so important and now more than ever, Australians are valuing their beauty routine. With a change in working habits in recent years, it is essential to offer services that benefit all of your clients, whatever their daily routine may look like. Some may enjoy a trip to the salon, others may work a long day and prefer the convenience of getting their lashes or brows treated at home. With a portable beauty bed, you can comply with all of your clients' requirements and deliver a great service time and time again.
Why Choose Islashboutique For Portable Beauty Beds?
When it comes to lash and brow treatments, few companies have more knowledge than us here at Islashboutique. We know exactly what it takes to deliver quality treatments and bring you products that only enhance your business. This is just one of the reasons why you can trust that our beauty beds are the best in the industry. Supporting your clients through all of their treatments, you can guarantee that they will leave feeling comfortable, supported and transformed.
We offer versatile beds, so you can shop confidently, safe in the knowledge that you will be covered for all of the beauty treatments that you offer. We have the best beauty bed for eyelash extensions, brow treatments and more. A sturdy and adjustable frame, removable features and oil proof topper enable you to deliver all beauty treatments with confidence. Rest easy that whatever treatment you are providing, your client is sitting happy.
Browse Our Collections Today
There has never been a better time to purchase your portable beauty bed from Islashboutique. Elevate your business now and browse our collections or get in touch to discuss your requirements for some advice and guidance. If you want to brush up on your skills or learn something new to really enhance your client experience? Why not enrol on one of our eyelash extension courses and eyebrow training courses? With a variety of both classroom and online courses. 
Read Less
"At Islashboutique, we understand the importance of a reliable and efficient shipping service. That's why we partner with Australia Post to ensure your products are delivered in a timely manner, giving you peace of mind.

Your products will be shipped within 24 business hours of purchase.

We offer various shipping options:

Express - delivered within 1 to 3 business days
Standard - delivered within 2 to 10 business days
 
With these shipping methods, you can trust that your order will arrive promptly, allowing you to please your clients without delay. Please note that delivery times may vary depending on your location and any unforeseen circumstances beyond our control. We strive to provide exceptional customer service, and our commitment to reliable shipping is just one way we prioritize your satisfaction."