Tips On How To Get Clients For Your Lash Business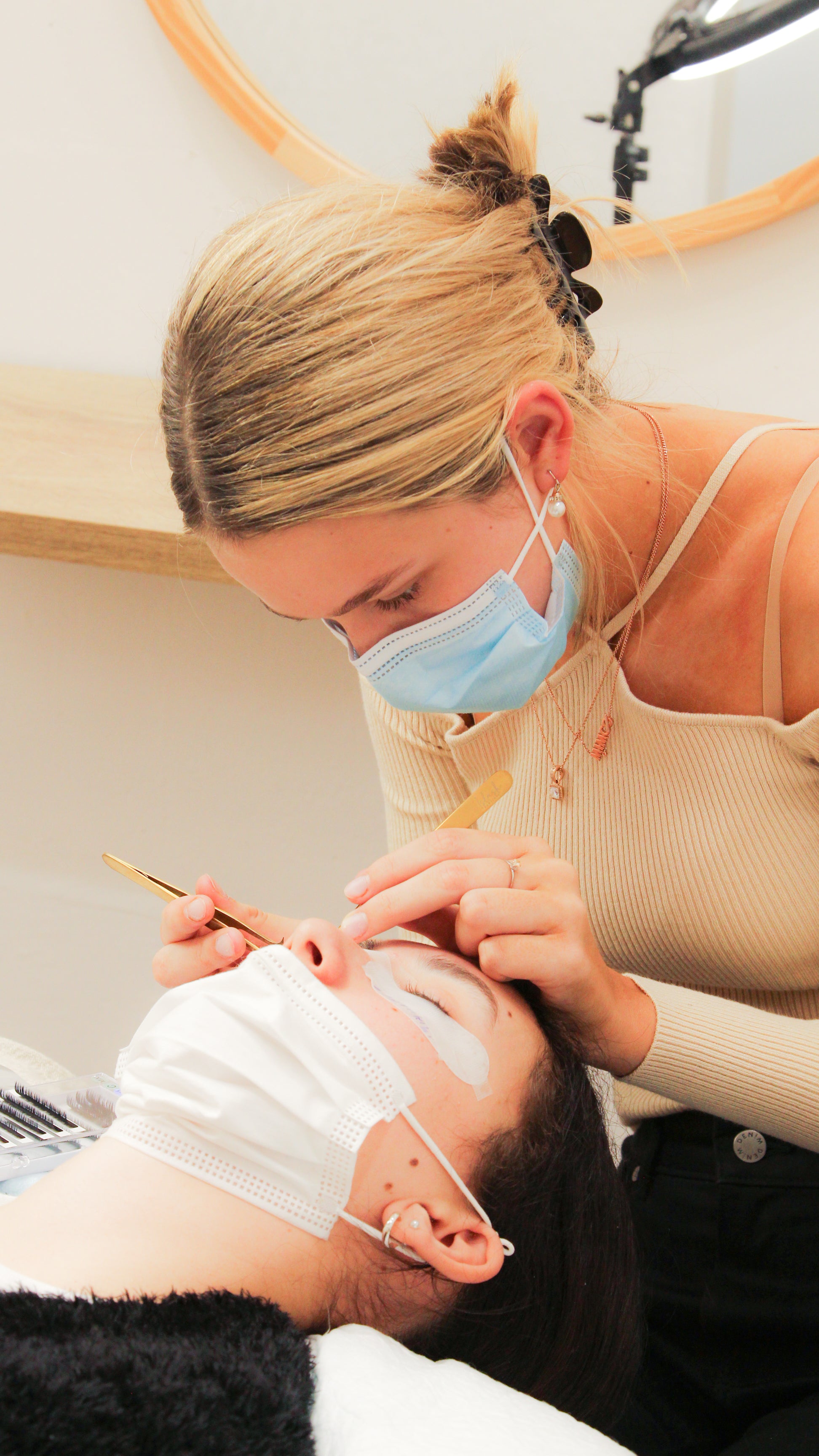 Congratulations! You have taken the steps to become an Eyelash Technician and have kick started your own lash business. The excitement has peaked and you're  left wondering how do lash technicians get clients? How can I promote my lash business? How do I grow my lash page?
These are common thoughts and questions all new eyelash extension business owners ask and it's a natural process all businesses go through.  
Developing a strong business strategy and remaining consistent is the key to growth in new business. In this article we will answer some frequently asked questions and give you tried and tested tips to get your lash extension business new clients! 
How To Get Clients For A New Business
Firstly, your business is new. This is important to recognise as no one currently knows who you are or what you are doing without correct promotion and advertisement. You can't expect new clients to be flooding through the doors unless you make them aware of what you have to offer. There are two ways to promote yourself FREE (organic) marketing or Paid marketing. As a new business owner you will have little capital so we will focus on the organic free marketing and slightly touch on paid marketing: 
Social Media For Your Eyelash Extension Business
If you haven't already set up a social media page for your lash business this is your first step to getting new clients. In a digitally advanced world most people looking for eyelash extensions will turn to Instagram, Facebook and even TikTok to find their lash technician. Utilising social media you have a free and extremely strong method to market your lash business. When starting out you need to utilise as many platforms as possible.
The more people you can reach with your content the higher chance you have of getting new clients. In your down time make sure you post consistently and regularly across all your platforms, it's best practice to get into the habit of posting 1 to 2 times a day. Take advantage of all the different methods to post eg. stories, reels and regular posts. When posting it's important to ensure the content is relevant to what you have to offer. In this case you are offering eyelash extensions as a service so don't start posting about hair, nails or beauty in general otherwise viewers will become confused, you need to be very specific. 
The best content you can post is photos of your lash sets. This is a sure fire way for people to know you are a lash technician and you can demonstrate your art for the world to see. Make sure you add into the description that you are taking new clients and give the audience a call to action (CTA). A CTA is a direction you give the audience on how to utilise your service. Your CTA can be something as simple as "to book click the link in the bio". This is critical as without this information the audience won't know whether you are taking new clients or even how to book. 

What if your lash business is new and you don't have enough photos of eyelash extension sets? Well the answer is simple, post eyelash extension educational content. By doing this you are letting your audience know that you well versed in lash extensions and not only care about making money but also care about helping them. Most people will want a lash technician to give them the set they want and this is a good way to demonstrate you are willing to help. 

You can find educational posts in google a search as simple as "eyelash extension social media posts" will give you plenty of tips and ideas. If you are still struggling purchase pre-made social media posts off a creator on ETSY or similar. 
You may not see results early on but you need to trust the process, social media works like a snowball effect and if you remain consistent you will reap the rewards. 
Other Eyelash Extension Advertisements
Although you should focus most of your energy on creating and building your social media presence it's important to also look outside of this square and consider other forms of advertisement for your lash extension business. All the greatest and biggest businesses in the world have several avenues of advertisement and if you begin to think outside the box early on you will double over your competition in the long run. 
Lash Extension Business Cards
Yes business cards may seem outdated, however a simple card can be an extremely powerful tool to getting new clients.  You will bump into new people everyday and a lot of whom are already (or interested) in getting eyelash extensions. I can't count the amount of times I personally have had a random conversation about lash extensions with strangers and in that moment it is the perfect time to hand over a business card so they can recognise you as a lash technician. If you are already having a conversation with them you are building a rapport and trust and it will make them more comfortable to come to you for their first appointment. So always carry your business cards. 


The card should be simple, easy to read and have all the relevant contact details/information so they can find you easily (eg. social media handles, email, phone number and website). Make sure when designing the card you create it in line with your business using your logo and brand colours so people are aware it's yours. We personally use Canva to create our own print designs. There are hundreds of free templates you can utilise and it's a simple drag and drop to customise your own. Once you have designed your business card develop them via a printing service and put your new lash extension business cards to work. 
Build Relationships With Other Local Businesses
There will be other businesses in your area servicing clients who are interested in beauty. Think hair salons, nail salons, brow artists all of which have clientele who are in need or want beauty services. If they are already using a beauty service there is a higher chance they will also utilise your services for eyelash extensions. It may seem daunting to approach another business and build a relationship, however you could be missing out on the best opportunity for new clientele.
The easiest way to establish initial connection is via email, social media, phone call or if you are feeling brave and they have a shop front just walk in. Introduce yourself as a business owner and make it very clear what you are looking to achieve. Remember most people want to know what's in it for them and unless you have an existing relationship it is unlikely they will help you without a favour in return. 

This is where those business cards can come in handy. Ask if you can leave your business cards on their counter and in return you will take some of their cards and provide them to your new clients. Make the process seem as easy as possible with no strings attached. Be creative in your approach, businesses will receive a lot of spam messages or emails with offers so try to think outside of the box. Sending messages or emails is the fastest way to get in contact with more businesses in a shorter period of time, however meeting them in person will have a stronger impact and better results. It's a numbers game the more businesses you contact the greater chance you have of creating a relationship and remember all business owners are humans so don't overthink process and let your personality shine! 
Build A Lash Extension Referral Program
A referral program is a great way to gain new clientele. People will trust your services more if they hear great things from their friends, families or colleagues. You can incentivise your clients to book with a friend by giving them an offer. By doing this your client will receive a discount and you will have a new client to add to your books. Your offer could be something as simple as "Book with a friend and receive X% off your service". Everyone loves a bargain and if they have willing friends you could literally double the size of your bookings! 
How To Grow Your Lash Extension Business With Existing Clients
There is a lot that goes on in the life of a business owner and sometimes the best strategies are right in front of you. If you have existing clientele they already trust you enough to use your service and with their help you can scale your lash business through better nurturing them. Here are some tips to have your clients coming back every time! 
Create A Lash Extension Loyalty Program
If your clients are already happy to pay full price for your service they will be happy to keep coming back if they can get a freebie or discount after a certain amount of visits. A loyalty program is a proven successful strategy to retain customers and even excite new customers to use your services. Create a loyalty card and offer that your clients can't resist. You're the business owner so work out what you think your clients will want. Maybe you will give X% off after 5 lash appointments or if you really want to stand out maybe a free set after 10 lash appointments. 
Rebook Your Clients Next Lash Appointment
If you don't ask you won't receive. If you want your clients to book another appointment ask them the question. Whilst you are taking payment for your service let them know of you availability over the next 2 to 3 weeks for their refill and ask if they would like to book that spot then and there. Not everyone will want to rebook on the spot so don't take it to heart if they decline. However, you should build the habit of asking everyone the question. Having returning customers will reduce the stress of chasing new clientele. Once you have built a strong loyal customer list you will no longer need to chase new clientele. So start early and build your foundations. 
Make Booking A Lash Appointment Easy
Following from our previous tip booking and rebooking your clients should be an easy process. Living in a technologically advanced world most people will become frustrated if your booking process is too hard. When you first start you will most likely be manually taking appointments through pen and paper. This is fine, however we strongly recommend investing in your own booking system.
Not only does the booking system make scheduling appointments and rebooking easy for your clients it also helps to capture emails/phone numbers for more advanced marketing further down the track. We personally use Timely which is an easy to use portal, you can take advantage of 14 days free to see if it works for you. Having a booking system will also save mistakes and reduce no shows. All your appointments will be nicely laid out into a calendar and your customers will receive email and text message reminders to let them know of their upcoming appointments. 
Be Yourself
9/10 clients are sold on you and your personality. If people feel comfortable around you and like who you are, they will 100% come back and refer their friends as well. You will spend 1 to 3 hours with a client and for most people this is a time to really relax. Make them feel welcome and open up. A lash appointment is also a therapy session for most so letting your personality fly will be the real reason behind your business growth. All my lash clients are now my friends and you can achieve this too. 
Conclusion
Getting new clients for your lash business can be one of the most daunting processes. If you remain consistent and follow a strategy you will see growth in your lash business. Everyone has a different path for growing their business. What might work for some won't work for others but you won't know unless you try! Use our tried and tested tips to help grow your lash business!